Developed specifically for use with MaxMeyer's HP Multiprime, HP Plastic Additive for Primer makes painting bumpers as quick and easy as the rest of the repair.
MaxMeyer brand understand that painters need quality as well as productivity. With this at the heart of its philosophy, the brand has introduced HP Plastic Additive for Primer, an easy to use additive to enhance the versatility of the Primer offer.
Using the latest technology, this new additive has been specifically developed to work with HP Multiprime. Painters can simply replace the standard thinner when mixing HP Multiprime and this will allow the primer to be applied directly onto plastic bumpers.
Boost your productivity: using HP Plastic Additive eliminates the need for an additional adhesion promotion layer, thus reducing material consumption. Removing this step enables bodyshops to save nearly 40% (around 30 minutes) of the time it currently takes to process plastic, without compromising any of the excellent features of HP Multiprime.
Bodyshops all over the world are already benefiting from the fast process times that can be achieved with HP Multiprime. Now, with the addition of HP Plastic Additive for Primer, painting bumpers will be even faster too.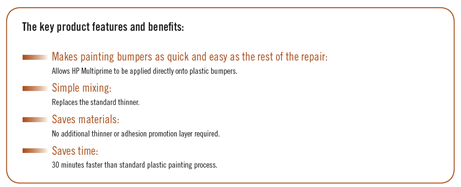 High productivity and a simple process that is easy to use, this is MaxMeyer brand.
MaxMeyer and Dog logo is a registered trademark of PPG Industries Europe, SARL. ©2019 PPG Industries, Inc. All rights reserved.